The Artist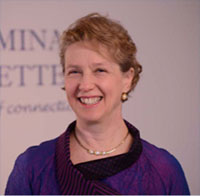 Learn More
Sara Harwin's love of both art-making and Jewish learning come from being raised in a home filled with Yiddishkeit, her early Jewish education at the Sholem Aleichem Institute in Detroit, Michigan and many years at Camp Tamarack which enriched her sense of Jewish community. Later, she studied Hebrew and art history of the Middle East at the University of Michigan where she completed a Bachelor of Fine Arts Degree. At Michigan she gained first-hand experience in printing under the tutelage of artist and author Emil Weddige. Upon her arrival in Portland, Oregon in 1969, she went on to study clay work with Wally Schwab at Marylhurst College, incorporating her figurative approach to art onto dish ware and freestanding sculptures. Her work has been exhibited in numerous group and one-woman gallery and museum shows, while her ritual items are widely treasured by individuals and communities.
Sara Harwin's activism in communal and congregational Jewish life led her to become a founder of The Egalitarian Shul, a lay-led service in Portland, Oregon. She also served as the President of the Women's Division of Portland, held the position of Education Chair on the Women's Department of the Council of Jewish Federations National Board, and was President of the Board of Portland Jewish Academy. She traveled as an advocate and workshop leader for Project Kesher to Kiev, Ukraine. Her adult bat mitzvah with her daughter, Lise Harwin, not only deepened her Jewish skills and ability to interpret Torah, it also fed her hunger to be able to interpret the Torah and Jewish prayer in Hebrew and through her art.
Harwin Studios was established in 1970 and in early 1973 Sara was printing her own lithographs with her husband, Fred, as her assistant. By 1990, Sara had transitioned to working in fabrics and had modified her studio to incorporate sewing and sewing machines, as well as an area for painting on silk. The addition of a computer system in early 1996 allowed Sara to draw, design and manipulate graphic ideas.
Sara began Hebrew Studies in 2011 with Dr. Stephen Carver and Rabbi Dr. Goldie Milgram, while attending many decades of learning at the Federation General Assemblies, Reform, Conservative and Jewish Renewal retreats and conferences. Sara and her husband travelled to Israel as community representatives on many Federation missions. Sara Harwin began drawing upon her learning to create the Hebrew font and patented method for the creating the Illuminated Letters exhibition. She travels widely with exhibitions of her work, has earned honors and commissions as her fusion of art and love of Jewish life and learning continues to grow.